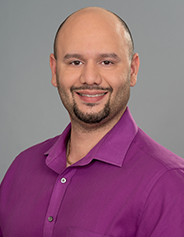 Tony Serrano
Property Manager
Tony was born and raised in Connecticut and has been a resident of SWFL since 2007. In his previous position, he worked alongside real estate professionals and investors for 10 years. Tony traveled to 43 states in his previous role and gained a passion for real estate, property management, and serving residents.
Tony has been with United Group for over 3 years and has worked extensively in leasing, marketing and property management. He has a background in customer service, sales, management, and marketing. Tony loves working with seniors and helping them find their slice of paradise. He is married with a son and when he's not working, loves spending time with his family.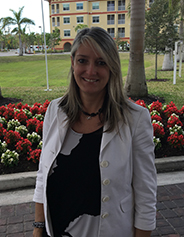 Paige Nicholl
Lifestyle Manager
Paige Nicholl is the Lifestyle Manager at Sandalwood Village. She has been with United Group of Companies since October of 2016. Paige received her Bachelors of Science in Recreation from the University of Florida along with a Minor in Gerontology. She has 25 plus years of experience in event planning.
Paige is passionate for creating memorable events for her residents. She is dedicated to offering everything under the SUN®. The SUN® (Senior Umbrella Network) program is Sandalwood's signature seven-prong model that provides residents an array of services and activities designed to foster and support independent living and to enhance the active-senior lifestyle.
Prior to Sandalwood Village, Paige managed a Luxury RV Resort for several years. One of her favorite past experiences was Owning and Operating a Floral Design & Events Business in Naples.
In her leisure time she enjoys spending time on the water with her husband Hunter and daughter Addison.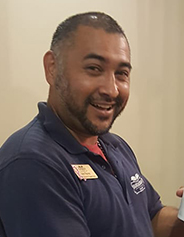 Joe Flores
Maintenance Supervisor
Hi my name is Joe Flores. I would like to start off by saying I'm not your average Joe. I have accomplished quite a bit in my 40 plus years. I have done numerous jobs and have gained a lot of experience in training in different fields. I've been an inline cook, to a tractor trailer driver, to an armed bodyguard, to a warehouse team leader in a Coca Cola plant, to construction work and operating heavy equipment, to also doing Maintenance work. With a family of 6 including myself I can't stop from expanding and learning more in order to provide for my family. Especially with the disabilities three of my kids deal with. I push hard everyday to be better then yesterday and I try to solve the mysteries or challenges life throws my way. I have accomplished with certification: Food handling, Adobe illustrator, Adobe Photoshop, Adobe Dreamweaver, Entrepreneurship, CNC machinist 1, Fight or flight, tactical simulation training, close quarter simulation training, pistol dynamics training, hand to hand combat training, and a Class A commercial license as well as 608/410 HVAC license. Plus I am an Artist, I love to draw and create art work. I enjoy building things and taking things apart just to see how they work. So you can say I am not your average Joe.
Scott Mello Jr.
Maintenance Technician
My name is Scott Mello Jr I am twenty five years old and I am a Maintenance Technician here at Sandalwood Village in Naples, Florida. I was originally drawn to the property by family members that previously lived here and I thought it would be a great place to work and expand my knowledge in the general maintenance department. I have a history in pool maintenance and customer service so this has been the perfect fit for me in the last two years I have been here. It's easy to forget you are working when you enjoy what you do!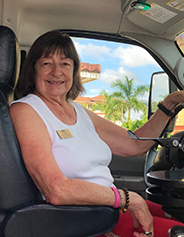 Nancy Thomas
Transportation Specialist
Nancy joined our team at Sandalwood July 4, 2017 as our Transportation Specialist. She has always been driving something since she was 11 years old driving a tractor on her family's farm. She has worked in the insurance field, 22 years in the credit union world, driving a school bus in Burr Ridge Illinois for 5 years before relocating to Naples, FL in 2009. The bus driving experience helped in going to work as a driver at Aston Gardens retirement community in 2010, for 7 years before coming to Sandalwood. In her spare time she enjoys spending time with her family and her pets.